I love The Documented Life Project!!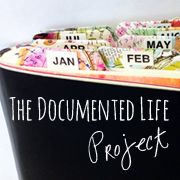 Week One was "Your Front Door"...
It just so Happens that DOORS have been an image that just keeps coming up. I think of the New Year as a Huge Open Door to New Changes.
Also, my Dad is a Huge Jigsaw Puzzle Lover and when we visited him a few weeks ago he was doing this Awesome Puzzle that was made of Photos of all kinds of Front Doors!!! Loved it!
Here's a Close up of some of my Faves:
I asked him to save the Box and the small pic that came with it:)
So, this Christmas- he suprised me!!! He had it Framed! I absolutely LOVED it! It's going up in my studio!
So- I took the smaller version, cut out my Faves and ended up with this for my "Front Door Assignement":
You know I am obsessed with Small Houses...I think it stems from so much exposure to Dr. Seuss- I always wanted to live in his Houses!
I love Graffiti...reminds me of home:) I'm just Molly from the 'Block'...
The Next Assignment was to do a 'Selfie'. Most everyone took Lovely pics of themselves and made awesome pages. I will do just about anything not to have to See a Pic of myself...
SO- I decided to use 'Symbolism'...sounds pretty mysterious right?
The term "Be the Bunny" is Secret Code for No one but ME and Jesus...ok- and maybe my Hubby who is the Sharer of all my Secrets:)
Since our own Pet Bunnies have gone home to Heaven- I had the Awesome Opportunity to Research some "Bunny Love" and let me tell you- it was the Cutest Research I have ever done!
I found a Cutie and sketched it out in Pencil...the Cheap Mechanical "Got-a-pack-for-a-buck" Kind:)
Then I finished it off with the Really Fine Sharpie...it's what was sitting in my Pen box:)
So that's the story of the "Selfie" so far:)
Tomorrow I am working on making Tabs in my Planner so I can find the Month/Day/Week I am looking for.
This means more "Research"....Yay!!! I love scrolling around on The Documented Life Facebook Page and seeing what everyone is doing!!!
So have you started using a 2014 Calendar/Planner yet? This is my first year Making one- it usually takes me a week or two to find one I like.
Let me know! I'd love to hear from you!