I hope you all had a Fantastic New Year's Eve! We had a great time just Hanging out, watching old "Eureka" Episodes on Net Flix and playing Board Games:) My boys all made it to Midnight...me? Not so much!
But I did manage to Wake Up just in time to watch the Rose Parade!
Ok- so you may not know..... but I am a total Rose Parade
Seriously...I grew up in Duarte which is about 20 minutes East of Pasadena. AND my Dad was a Civil Engineer for the City of Pasadena- so it was a BIG deal in my Family. Christmas...then Rose Parade- that's how it goes in the Holiday Food Chain...
I'm also a Total All-Around Band Geek... Ya- that's me in front there..
I was THE Band Geek Baby...Co-Drum Major Duarte High School Marching Band Band! All 22 of us!
Every year we visited the Floats being made in Giant tents in Pasadena by thousands of Lucky 'Petal Pushing' Volunteers. I've submitted many 'sketch ideas' for the "City of Duarte" Float...because it always stunk...seriously...it always stunk.
And we even went to see the floats on display after the Parade...well, the Cool ones...not Duarte's because it always had to be towed...
I even auditioned for the the 'Rose Parade Honor Band' a few times:) I rocked the Flute, the Piccalo and Occasionally the Base Drum when Sergio couldn't learn his part...
If I was able to actually Freeze my Butt off and sleep on the sidewalk, we'd see the Parade in person. But we would
Never miss it at Home. We would wake up early...6:00 am- because you CAN'T miss the "Pre-show".. and we watched in our Jammies:)
My Mom would make 'Scotch Eggs'...which are basically Hard Boiled Eggs wrapped in Sausage:) Here is a very Bad...but Non-Copyrighted Photo:) My Mom's are MUCH better...although they Do look mysteriously like Dinosaur Eggs..
I have no idea if anything Scottish is actually involved... Needless to say- they are great memories. My Mom made them this year for our Annual Christmas Breakfast Feast and I sat in the Corner Hoarding mine...like Gollum...
Ssssscotch Eggsssesssssss....
This year
I was thrilled to stumble upon the Property Brothers who were hosting a "We-promise-not-to-talk-or-run-commercials-over-the-band-music" Broadcast- I was IN!!! Go HGTV!
Normally I am a staunch Bob Eubanks and Stephanie Edwards die hard...but come on Bob, the Bands aren't just a fill in between the floats! And the Property Boys had Great Sound...ok, let's admit it- they are Fun to look at...am I right? OH- and there was some other girl on there too...:)
Ok- so that was my Awesome New Years day!
What greater Love has a bunch of Teenage Boys and their Dad than to sit through an entire Rose Parade listening to their Mom add Live Commentary every time a Band went around the Corner of Colorado Boulevard?!
(Did you see the Marines do it this year??? OOO-rah baby...)
Ok! Geeking out aside...I feel like getting through Christmas- although Lovely and Wonderful- was a bit stressful. So I really hadn't even had time to take a breath and really Plan for the New Year.
As Moms- we are Constantly Planning, Scheduling, Listing etc...and it's not like I don't have a plan...I just don't have it all Dolled up in a Fantastic Artsy Planner!!!
Which is what the "New Years Fantasy in my Head" said I should already have had Built, Decorated and Ready to Use promptly at 6:00 am this New Year's Morning.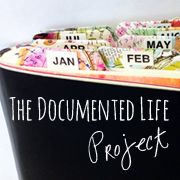 BUT! Progress has been Made!!!
I was Obsessing following my Fave Artsy Friends throughout the Holidays and stumbled upon The Documented Life Project! You Guessed it!!! A bunch of Artsy, Art Journaling, List making, Schedule Junkies just like me all Making their Very Own Customized Planners!!! AND I get to join ANOTHER Facebook Group!!!
(Cue Happy Dance...Disco..Party on the Dance Floor style...)
So Join me over the Next Week as I learn How to put together The "One Planner to Rule Them All"...yes, my Precious...A Planner/Calendar/Sketch Book/Journal/List Storing Masterpiece! Bwah ha ha ha!!!
Are you A Planner Junkie? List Lover? School Supply Addict?
What are your Plans for "Planning" this year?
What Scheduling Devices do you Absolutely have to have on your person at all times???
Let me know!!! We Love Commentssessss.....:)
See you Tomorrow for More 2014 Dreaming!
Here's Sophie enjoying the Post Christmas Art Binge...