Summer Sunflower:)
As you all know, I am recently new to the Art World and Especially New to actually having some Time to focus on All things art!
This is the first summer in 5 years that we haven't been doing Chemo with my son several times a week. He's on "Maintanence" now and doing Fantastic by the way! We also Home School both my boys. One is a Jr in College now and the other is a Senior...but on Break for the Summer Finally!
For a while there I couldn't figure out what to do with Myself!! But it didn't last long:) I can finally think about actually Joining some Fun Art-a-licious Groups!
I am Absolutely in LOVE with Index Card a Day!! Here's my latest one:
I can't tell you what a HUGE Kick-in-the-Art-Pants this has been to just be Accountable to Paint every day. And I tell you, the Best Part is the group of Artists on the ICAD Facebook page! You can post your work and these Wonderful Folks give their encouragement, thoughts and wishes. This is really the first time I've ever Posted any of my stuff On line...and it has been So Great!
If you are new to Art, Art Journaling or just plain want to meet some Amazing People...Click on the ICAD Button and go see Tammy at Daisy Yellow. I would love to have you Join Us!
Ok, So I have been seeing these really Cool Journal pages, Quilts and Index Card Art this last week and Curiously....all of them had the same Color scheme. Last week it was a Gorgeous Bright Blue with Lime Green....it was a great Combination so I did a little research.
I've been Toying with the Idea of making the commitment to doing a Journal Page a Day...but it just felt like too much. Then I saw everyone's Blue and Lime Stuff and I thought....Okay...Maybe...
Short Story LONG! I Just Did It! I jumped in. Here's my "Catch Up Page"
Blue and Lime Color of Summer
So, my Favorite Parts of Summer of Color?
* A New Color Scheme each week!
* A Facebook Group Page to post your work & See Others
* You can use Any Medium you like!!
* It's only a Once a Week Commitment....Whew! I can do that!
So Technically....you could Join ICAD...and make One of your Cards in the Color Scheme from 'Summer of Color' and Voila! Two for one!!!
If you're like me and need a little "Kick-in-the-Art-Pants, I hope you'll join me at Summer of Color!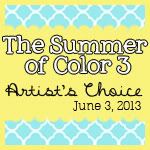 Leave me a note with your thoughts!!